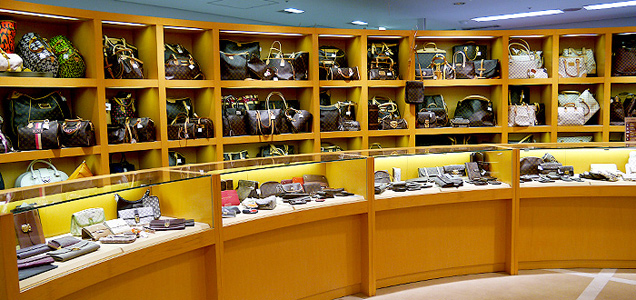 From new items to rare finds: brand name goods store even celebrities visit.
Hermès, Louis Vuitton, CHANEL…the bag section consists of various brand name items, including not only bags but wallets and accessories. This is a super brand name goods store with a mind-blowing inventory. We have unused and second-hand items in addition to brand-new items, providing an opportunity to find the item you have been looking for with a hard-to-believe price.

Hermès

We meet our customers' needs with a huge selection unmatched by our competitors, from luxurious bags such as Birkin and Kelly to casual bags made with canvas material.

Louis Vuitton

Adding to the all-time standard, Monogram and Damier, we have other popular series including limited collections. We are the fastest to have new items, so you can be the first to find your favorite.
CHANEL

From the basic Matrasse to collection lines, we have a gorgeous selection of CHANEL bags. A large number of popular accessories are also available.

PRADA, Gucci, Coach, Bottega Veneta, dunhill, Cartier, BVLGARI etc.

Items from such brands as PRADA, Gucci, Coach, Bottega Veneta, dunhill, Cartier, BVLGARI etc. are tastefully displayed according to each brand concept. A large selection is available from bags to accessories.
Buyer's select

We offer bags from selected brands that change each season. You can find a bag that fits your lifestyle, as well as keep up with what's in fashion now.

Second-hand floor

Items from various popular brands are coming in every minute, for a vast selection from reasonable second-hand items to rare pieces that are usually very hard to find. We take pride in this floor.

Open

10:30AM - 7:30PM

Closed

Wednesdays (open on public holidays) ※This schedule is subject to change.

Address

3-25-31, Osu, Naka-ku, Nagoya-shi, Aichi 460-0011

Phone

0081-52-242-0088
Floor Information

2F Watches

The concept of the Brand Name Bags and Accessories floor of the Nagoya Store Main Building is a "store space for a fun shopping experience". We have a broad selection of new and second-hand brand name bags as well as cosmetics and miscellaneous goods, aiming to meet our customers' needs. The prices are reasonably set. We are all looking forward to serving you.L/V Section staff