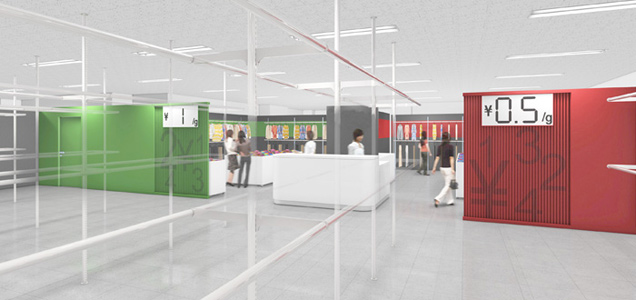 A flood of second-hand clothing! A floor for sell-by-weight clothing!
"Yen=g" is a store for sell-by-weight second-hand clothes. We have four areas; 1 yen/g, 2 yen/g, 3 yen/g and 4 yen/g, providing our second-hand clothing for unbelievable prices. All items in "Yen=g" are sold on a sell-by-weight basis. It does not matter what brand or what item it is, so you may be able to find an unexpected gem.

Second-hand clothing

Clothes, shoes and bags with older styles or grade B quality are sold by weight. Some have never been worn, and many are in decent condition. You can enjoy a treasure hunt on this fun floor.

Open

10:30AM - 7:30PM

Closed

Wednesdays (open on public holidays) ※This schedule is subject to change.

Address

3-25-31, Osu, Naka-ku, Nagoya-shi, Aichi 460-0011

Phone

0081-52-242-0088
Floor Information

2F Watches

"Yen=g" on the 7th floor of the Main Building has discounts every week. With a little bit of time and effort, you might be able to find a great item with a hard-to-believe price. We have a 0.5 yen/g sale several times a month, which is a wonderful opportunity for buying in bulk. Please come visit the redesigned "Yen=g" store, either for the first time or a return visit.Sell-by-weight Store "Yen=g" (yen-gram) staff